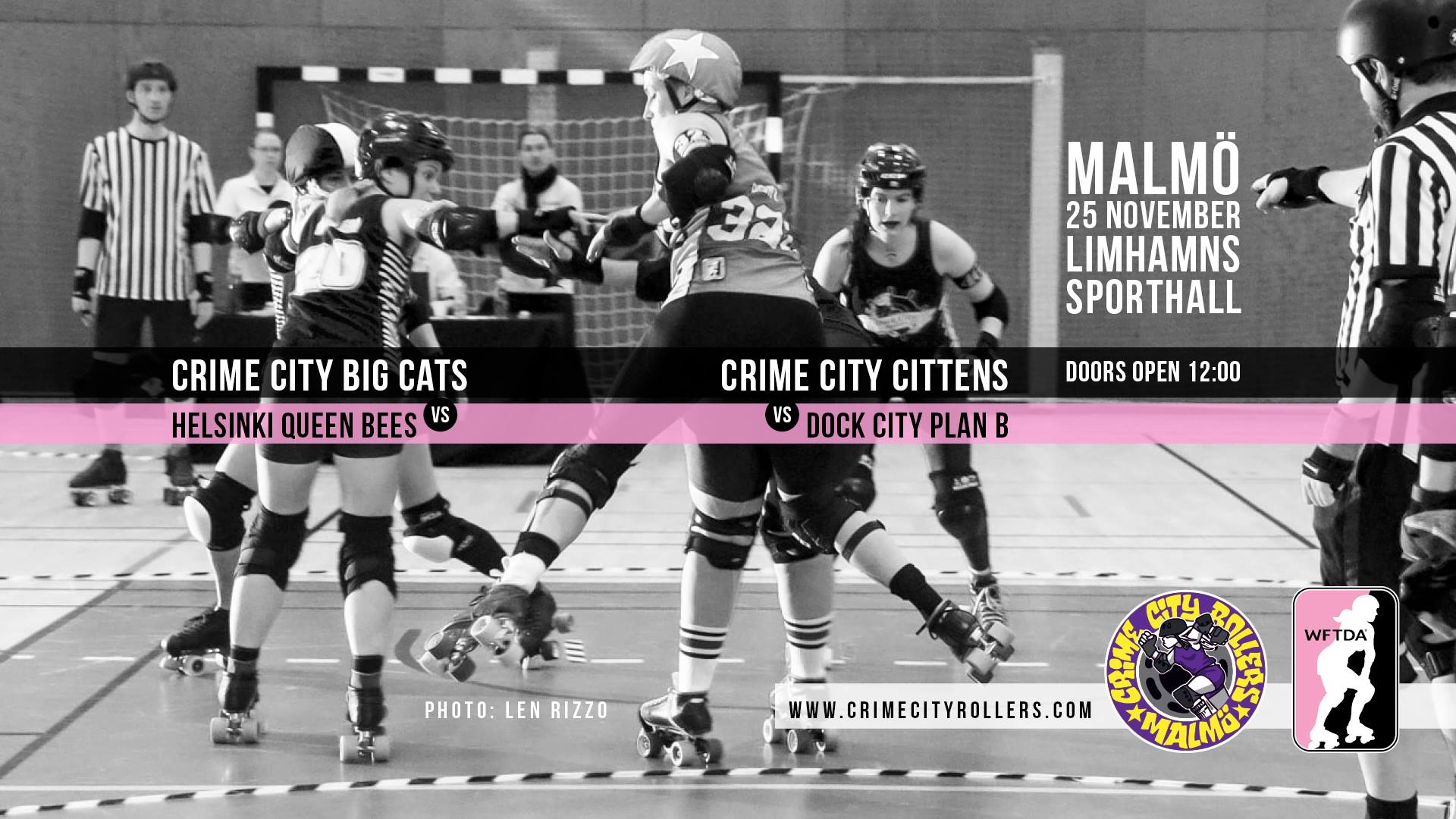 ✧・゚: *✧・゚:*
It is time for some AWESOME Roller Derby in Malmö again!!
Lift your head to see these amazing teams get together in this DOUBLE HEADER presented by your favourite cats Crime City Rollers:
҉ Dock City Rollers – Plan B (B-team)
҉ Helsinki Roller Derby – Queen Bees (B-team)
҉ Crime City Rollers – Big Cats (B-team)
҉ Crime City Rollers – Cittens (C-team)
Venue:  Limhamns Sporthall, Grönalundsgatan 6, 216 16 Limhamn
★・・・・・・★・・・・・・★・・・・・・★

☆ Schedule of the day ☆
12:00 – Doors open
13:00 GAME 1
»»—Crime City Rollers C【☆】Dock City Rollers B—««
14:25 Approx end of first bout
15:00 GAME 2
»»—Crime City Rollers B【☆】Helsinki Roller Derby B—««
16:25 Approx end of second bout
17:00 Venue closes
22:00 ☆♬○♩ AFTER PARTY ●♪✧♩
Will be held at Grand! Open until 03:00!!
Live on stage:
҉ WY
҉ Saidartch
Free entrance until 23.
https://www.facebook.com/events/135428813780087/?ti=icl
★・・・・・・★・・・・・・★・・・・・・★
☆ Entrance info ☆
Doors open at 12:00, and will be open until 17:00
Prices
100 kr for adults (and adolescents older than 15 years old)
50 kr for youths (7 – 15 years old)
Free for everyone under 7 years old!
Payment possible by cash, card and swish.
Pre-sale:
https://billetto.se/e/crime-city-rollers-presents-roller-derby-double-header-biljetter-234281
★・・・・・・★・・・・・・★・・・・・・★
The 25 november is also the UN designated International Day for the Elimination of Violence against Women.
Historically, the date is based on the date of the 1960 assassination of the three Mirabal sisters, political activists in the Dominican Republic; the killings were ordered by Dominican dictator Rafael Trujillo (1930–1961). In 1981, activists at the Latin American and Caribbean Feminist Encuentros marked November 25 as a day to combat and raise awareness of violence against women more broadly; on December 17, 1999, the date received its official United Nations (UN) resolution.
(https://sv.wikipedia.org/wiki/Internationella_dagen_mot_våld_mot_kvinnor)
★・・・・・・★・・・・・・★・・・・・・★
♥♡♥ We hope to see you soon!! ♥♡♥
*:・゚✧*:・゚✧