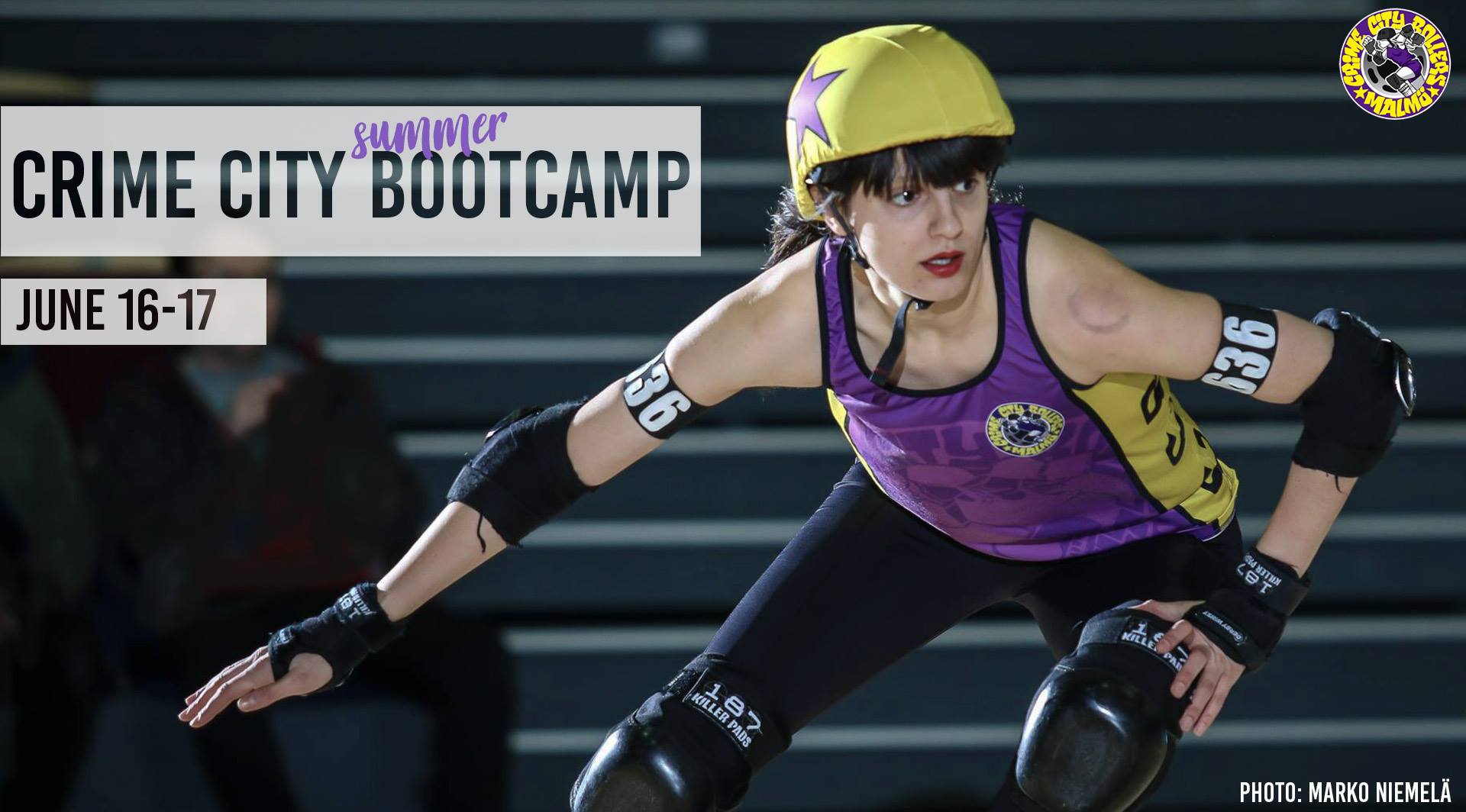 //ENGLISH BELOW//
ÄNTLIGEN är det dags för ett Basic Bootcamp för dig som har klarat Minimum Skills! Ta chansen att bli coachad en hel helg av spelare från Crime City Rollers, njuta av sommaren i söder och lära känna massor av nya derbyvänner.
Bootcampet kommer innehålla skating skills, smarta spelstrategier för både jammers och blockers, grundläggande reffing/NSO:ing och avslut med scrimmage tillsammans med spelare från Crime City Rollers. Förutom att träna kommer vi ge oss ut på äventyr tillsammans! Vad sägs om att skejta den långa, härliga promenaden längs Ribersborgsstranden, bada i havet eller grilla i en av Malmös alla parker? (Om det regnar hittar vi på något mysigt tillsammans istället!)
Bootcampet riktar sig till dig som tagit Minimum Skills, är över 13 år* och vill bouta eller har boutat ett par gånger. Personer av alla kön välkomna.
Plats: Crime City Hall, Kopparbergsgatan 8
Kostnad: 600 :- (ingen återbetalning)
Köp biljett här!
Alla uppdateringar och information kommer ges på den här evenemangssidan.
*Krav för juniorer
– 13-18 år
– Har klarat WFTDA Minimum skills test
– Vara beredd att spela fullkontakt roller derby
– Målsmans medgivande
– Mail från coach att junioren uppfyller kraven
– Juniorer får ta med sig en vuxen åskådare gratis
Maila frågor på ccrbootcamp@gmail.com eller posta i  Facebook-eventsidan.
//
It's FINALLY time for a Basic Bootcamp for you who have passed your minimum skills! Take the chance to be coached a whole weekend by players from Crime City Rollers, enjoy the summer in the south of Sweden and make new derby friends.
The bootcamp will include skating skills, smart game strategies for both jammers and blockers, basic reffing/NSO:ing and end with a scrimmage with players from Crime City Rollers. And as if bootcamping in Crime City Hall wasn't enough, we will enjoy summer adventures together! How about skating along the lovely beach at Ribersborg, swimming in the ocean or have a barbecue in one of Malmö's beautiful parks? (If it rains we will do other fun activities!)
The bootcamp is for you who have passed Minimum Skills, are over 13 years old* and want to play bouts or have played a few bouts. People of all genders are welcome.
Where? Crime City Hall, Kopparbergsgatan 8, Malmö.
Price? 600 SEK (no refunds)
Buy your ticket here!
You willl find all the updates and information you need here in this event.
*Requirements for junior skaters
– 13-18 y/o
– passed the WFTDA Minimum skills test
– be prepared to play full contact roller derby
– approval from parent/guardian
– an e-mail from a coach in your league to confirm that you fill these requirements
Junior skaters can bring an adult to watch for free.
If you want to get in touch with us, post on the Facebook event-page or send an e-mail to: ccrbootcamp@gmail.com
#CCRsummerbootcamp