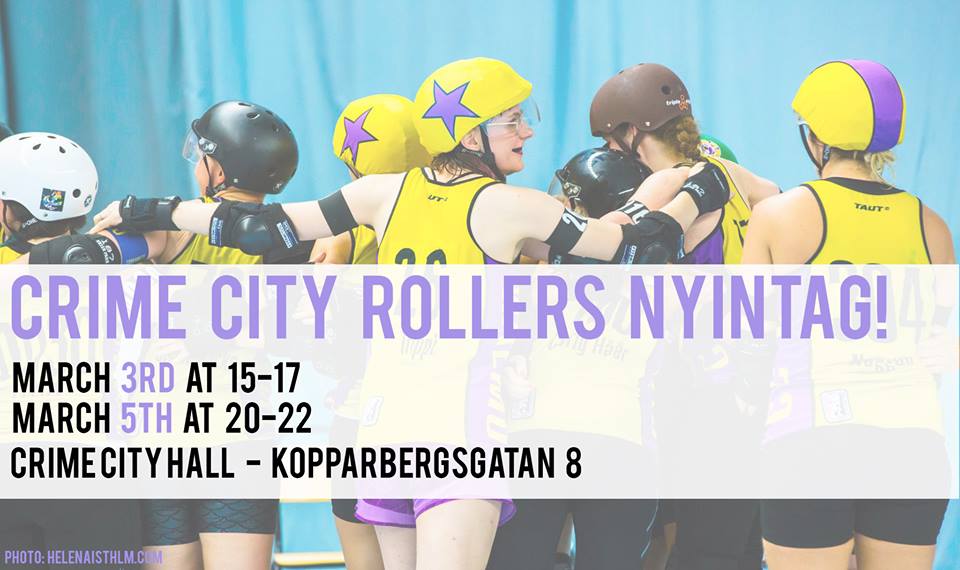 photo: helenaisthlm.com
Feeling curious about roller derby? Interested in trying it out yourself?
Fantastic, because we are now looking for new players and officials (referees & non-skating officials) for the best roller derby league in Sweden, Crime City Rollers! In September 2018 we will have two occasions for intake where everyone is welcome. We will give a short introduction to the sport, and you can try what it's like to skate.
★ Date, time and location ★
– Sunday March 3rd, 15.00 – 17.00
– Tuesday March 5th, 20.00 – 22.00
– Our training hall is located at Kopparbergsgatan 8, with the entrance next to the climbing center.
– Please see that you come on time so that we can start as soon as possible!
★ Equipment ★
We have skates and protection for you to borrow, but as the quantities are limited we might have to take turns in skating in case we are many.
If you want to bring your own equipment, any roller skates with 2+2 wheels will do. The protection needed are elbow pads, knee pads, wrist pads and a skating or hockey helmet. You won't need a mouth guard for these occasions, but later on you will need one for all the trainings.
If you are very excited about getting your derby career rolling, you are very welcome to join us for both of these occasions. In that case you will however let those who are trying out derby for the first time test before you if there is a shortage of equipment!
★ What should I have on and with me? ★
Comfortable clothing, but keep in mind that you will have knee, elbow and wrist protection and therefore can't have too big or baggy clothes.
Don't forget your water bottle!
★ What happens next? ★
If you want to start training with us you will pay a quarterly training fee and a yearly membership fee. The training fee for you who are new is free for Q1 (march through), 450 SEK for Q2 and then you'll pay the regular training fee of 600 SEK / quarter. The membership fee for 2019 is 360 SEK. You can train derby with us twice a week as a beginner (same times as the intakes), plus open skate which is open for the public each Wednesday 5 pm-7 pm.
★ Who can play with us? ★
Roller derby is a sport where there is space for everyone regardless of age, size or earlier background in sports. Crime City Rollers welcomes everyone to skate as a beginner regardless of gender. The players in our teams are women/non-binary people/trans people. Cis-men can take part in our association and in the sport for example as officials (referees & non-skating officials).
This event is open for everyone over the age of 16. If you are younger, check out our junior group Crime City Rollers – Candysnatchers.
★ More about us and roller derby ★
https://www.facebook.com/crimecityrollers/
https://wftda.com/
Watch old games here: https://www.youtube.com/channel/UCDeiVXgXF4UT649T-e5PXcw
and here: https://www.youtube.com/channel/UC7eMWpvytqd3gYAqxTl9w7g
We are part of the Swedish Skating Association (SSF) and everyone taking part in our intakes is insured.
We are also members of the WFTDA, the international umbrella organization for our sport.
We are looking forward to meeting you – this could be the beginning of your new fantastic derby life!
//Coaches Mickey, Cruiser, Hallongrottan, Fairy Whale, Henley & Kniven